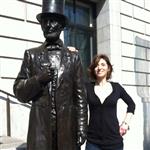 Phone:
Email:
Degrees and Certifications:
Welcome to

Mrs. Waz's

Speech and Language page!

This page is where students and parents can find speech and language practice for home!
Have questions? Have an idea? Have something to share?

Send me an email at Rene_Wazowicz@gateschili.org
All Categories
Unassigned
Select Month
January
February
March
April
May
June
July
August
September
October
November
December
Select Year
2019
2020
2021
2022
Filter
Speech Practice Corner

S - Z - L

Remeber your 30 second Warm Up!

Say the word "Easy" slow and easy with correct tongue placement!

__________________________________
L exercises for S/Z

Move just your tongue while you say some L sounds, keep the tongue up behind the teeth, have fun, be silly- but don't move that jaw.
Butterfly practice

Feel your tongue while making the 't' sound,

think of the sides of your tongue flapping light and easy like a butterfly wings.

Hold your tongue still, up behind your teeth as if the butterfly is gliding.

This movement will help you get to the 's' and 'z' sounds. Good luck!

Show me how its going!
R practice (for "car")

Have fun, keep working and come show me your progress! We will work on it together.
Look, this fish can say his L sounds with his tongue behind his teeth!
Morning Group's Terrific Tongue Twisters

Stu the sweater squirrel missed his bus.

Tom told Ted to tackle the terribly tall turkey!
Language Corner

Students have been working on desciribng in detail what good listening looks like. What does it mean to "do good listening?"

Here were some of thier awesome ideas:

LISTENING LOOKS LIKE:

Looking at the speaker

If distracted, coming back to a speaker

Repeating what is said

Waiting your turn to talk

Our listening work leads us into perpective taking.

A fun and complicated topic! Understanding that others may see things differently than we do is an important step in growing.
Sentence Building Practice
This month's theme is

"Respect means listening to my teacher" -Kellan

"Respect is helping people up" -Ryan "Respect means to me: follow the Golden Rule" -AJ

"Respect means you don't interrupt people when they are talking" -McKinnley